Here in the UK we are undoubtedly famous for our festivals, from Glastonbury and Bestival to Reading and Leeds, however each April, Indio, California give us a run for our money with Coachella - California's most famous music and art festival.
A throbbing heart in the middle of the desert and surrounded by palm trees and mountains, it is one of the most beautifully located festivals. Only a few hours drive from LA, it's a favourite among celebrities, and is the place to be - from the live music all day into the evening, Lacoste's pool party, the farmer's market, a tesla coil, bamboo starscraper and huge flower lights.
Held at The Empire Polo Club over the past weekend, some of the best acts from all four corners of the music industry found their way through the sand to perform. This year's line-up included MGMT, Florence and the Machine, De La Soul, The Big Pink and David Guetta.
However, Jay- Z made Friday night when he brought out his wife as a surprise for the loyal crowds. With a loving introduction 'someone truly, truly special' and wearing some Daisy Dukes, and a baggy white T-shirt Beyonce came on stage to deafening screams to belt out 'Forever Young' with her husband. Jay-Z summed up the Coachella vibe when he told the crowds 'Always feel like this, always stay forever young.'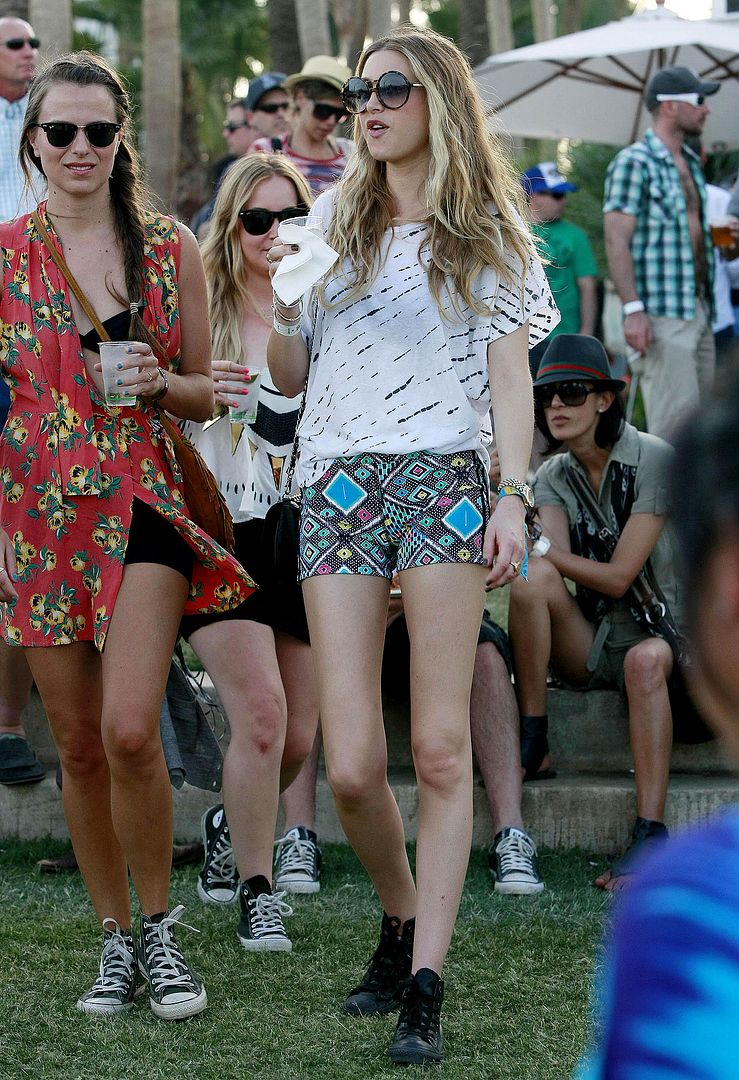 Each year the fashion pays homage to the upcoming S/S trends- this year showed prints from clashing African styles on Whitney Port to Aztec on Katy Perry. Mischa Barton and Dita Von Teese chose nautical with Teese in Popeye-style sailor bell-bottoms and Barton sporting an anchor and stripes manicure. Alexa Chung chose pale yellow for a playsuit, while short shorts were the choice of Lindsay Lohan and Hayden Panettiere for showing off perfect tanned pins.
Image Source
2010 was not short of the usual A-list guests with an array of celebrities in attendance. From Kate Hudson to model Rosie Huntington-Whiteley with her new beau Jason Statham, to Hills star Kristen Cavallari. Zooey Deschanel performed with her band She & Him, while Agness Deyn showed off her new shaven hair-do. Danny Devito met and hung out with MGMT, while Josh Harnett took a ride on a mechanical bull in a red-checked shirt, rolled up jeans, and deck shoes.
Coachella is definitely one of the most relaxed festivals, with a who's who of actors and models, a line-up to die for, and events and parties throughout. The day is blistering hot, the nights chilled, but the atmosphere electric. Whilst it may be all the way in the Californian desert, we think it is definitely worth the trip!