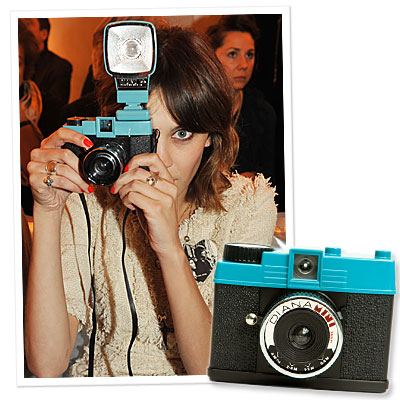 Photography seems to be having a serious moment right now, and these days we seem to be getting a little sick of crystal clear and stagnant digital images. We want character, we want movement and we want it all with a cheeky retro vibe! One of the best ways to get this from your images is with the cult classic 'Diana' camera, something queen of style Alex Chung has already cottoned on to.
A quick history lesson....
Back in the 1960's a small firm in Hong Kong called 'The Great Wall Plastics Factory' created a cheap plastic camera called the Diana. They sold it for around $1 but even this cheap price couldn't tempt the general public. The camera was discontinued in the 70's and us being the fickle natured beings we are, suddenly decided that posthumously, we loved this camera. It quickly became a cult classic, loved for its quirky and raw images.
Giving the classic style a little make-over the Lomography team have released this pure white version. Minimal, classic, irresistible. Here at Cellardoor, we've fallen a little bit in love * swoon *
By kat Nicholls