Of course it's a treat... and we've picked our favourite spooky treats for you to try.
Brain Blood Clot Cupcakes!
These cakes may look pretty gruesome but they taste utterly gorgeous.
If you fancy making some of your own, you'll need:
110g (4oz) unsalted butter, at room temperature
225g (8oz) caster sugar, preferably golden
2 large eggs, free-range or organic
150g (5½oz) self-raising flour, sifted
125g (4½oz) plain flour, sifted
120ml (4fl oz) semi-skimmed milk, at room temperature
1tsp good-quality vanilla extract
Good quality red jam
- Preheat the oven to 180C/160C (fan)/gas 4 and line a 12-hole muffin tray or 3 x 12-hole mini muffin trays with cupcake cases.
- In a large mixing bowl, cream the butter and sugar until the mixture is pale and smooth. Add the eggs, one at a time, mixing for a few minutes after each addition.
- In a separate bowl, combine the two flours. Put the milk into a jug and add the vanilla extract. Add one third of the flour to the creamed mixture and beat well. Pour in one third of the milk and beat again. Repeat these steps until all the flour and milk have been added.
- Spoon the mixture into the cupcake cases, filling them to about two thirds full. Bake in the oven for about 25 minutes (regular size) or 15 minutes (mini size) until slightly raised and golden brown. To check they are cooked, insert a skewer in the centre of one of the cakes - it should come out clean.
- When completely cold, cut a smallish hole into the top of each cake. Spoon no more than a teaspoon of jam into the hole forming a gross "blood clot" inside your cake. The cakes are then ready to place brains on top.
For the Icing;
110g unsalted butter, at room temperature
60ml semi-skimmed milk, at room temperature
1 teaspoon good quality vanilla extract
500g of icing sugar, sifted
Few drops of red food colouring
- In a large mixing bowl beat the butter, milk, vanilla extract and half the icing sugar until smooth. Use an electric hand mixer to make life so much easier. Gradually add the remainder of the icing sugar and beat again until the buttercream is smooth and creamy.
- To colour your buttercream, always start with one drop of food colouring and beat thoroughly. This will be all you need to achieve a very pale brain like hue. Add carefully drop by drop, and beat after each addition to build up your desired shade. Feel free to swap vanilla for any other flavour of essence. A teaspoonful will be enough to provide great flavour. Decoration
- Using an icing bag with a circular tip, squiggle on top to help get the look of a brain, try to decorate in two halves to give the look of hemispheres, try to give it a domed shape, and make the sides as symmetrical as possible. If you are feeling adventurous add a few blood vessels using red decorating gel.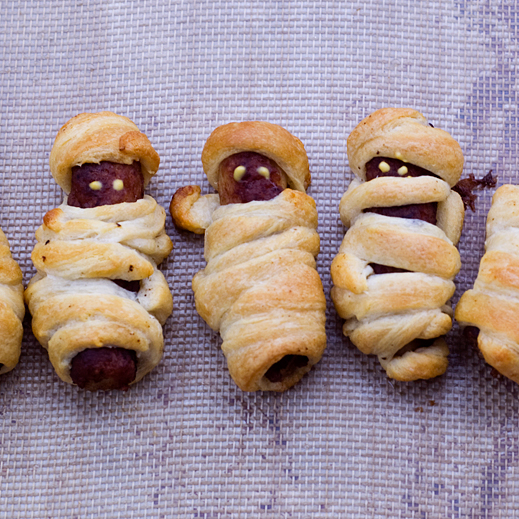 These cute little hot dogs in pastry make for an easy spooky treat. Just wrap some sausages in some ready made pasty. See recipe
here
.