So it seems like summer is starting to get underway here in the UK (not that we want to jinx anything!) and here at Cellardoor HQ we've been starting to think of yummy treats to help cool us off - and
this yummy frozen strawberry dessert
is one of our faves!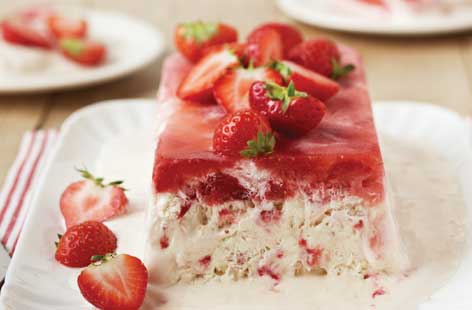 Ingredients
500g (1lb 2oz) strawberries, hulled - plus a
few extra (whole), for decoration
3 eggs
2 egg yolks
1tsp vanilla extract
200g (7oz) caster sugar
400ml double cream
biscotti, to serve
Method
- Line a loaf tin or small brownie pan with non-stick baking paper.
- Halve the strawberries and crush with a potato masher to make a chunky purée.
- In a large glass or heatproof bowl, add the eggs, yolks, vanilla and sugar.
- Place over a saucepan filled with 1 inch of water. Using an electric whisk, beat the mixture over the simmering water for 4 minutes. Remove and continue to whisk until thick, frothy and completely cool. - Whip the double cream and fold into the egg mixture along with half of the strawberry purée.
- Spoon some of the strawberry mixture into the bottom of the tin and then cover with ¼ of the semifreddo. Cover with more of the purée and repeat until it's full.
- Freeze covered for 4-6 hours until frozen. When ready to serve, cut into thick slices or spoon out with an ice-cream scooper.
- Serve with little biscotti and extra strawberries.